Residential Garbage Collection
"The Bureau of Sanitation implements waste management programs for businesses and residents...Collecting residential garbage; Operating the City's Blue Cart Recycling Program; Providing technical assistance and support for the City's recycling initiatives; and much more..."
- Source: Sanitation and Waste Reduction
Residential Garbage Collection
Residential Garbage is produced from 600,000 households in single family homes or apartment building of four units or less (others must arrange for private garbage collection). Chicago collects approximately 1.1 million tons of residential garbage and recyclables annually. Pick-ups are weeks Monday-Friday.
The average number of living units collected daily by each garbage truck has been increased, in part due to the creation of a "night shuttle" program. Previously, the garbage trucks needed to leave their alleys in time to dump their loads and return their yards by the end of each shift.Now, the truck crews skip their last dumping and remain longer on their route. Parked fully loaded at the end of the day, they are even shuttled to their dump sites by specially assigned second-shift drivers. This results in greater productivity from the laborers on each truck, whom no longer are idle while their vehicles are off to dump load.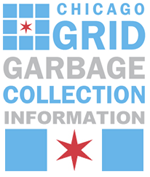 Residential Garbage Collection
In 2007, the City of Chicago introduced the Blue Cart Recycling program in seven communities and has since expanded it to more than 260,000 households. In the spring of 2012, Mayor Rahm Emanuel announced all eligible households would receive the Blue Cart Recycling program by the end of 2013. Private waste haulers provide waste collection services for the city's remaining commercial and industrial businesses and residents who live in multi-unit buildings or high-rises. Because Chicago uses a single stream recycling system, all recyclable materials are collected and transported together. Recyclables are picked up and transported in specially designated recycling trucks to avoid contamination with regular garbage.
Animal Control and Rescue
The City of Chicago receives over 70,000 calls a years to the 311 center from the general public regarding animal related inquiries and service requests. These calls include:
Other City of Chicago agencies, including the Chicago Police and Fire Departments, also call Animal Care & Control for assistance with animals. Multiple shifts of Animal Control Officers are available to respond and resolve the issues at hand for the callers.
If you witness an animal fighting incident in progress you should call 911 immediately.
Contact Animal Control
Department Main Office
Animal Care and Control
Phone: 312-747-1406
Fax: 312-747-1409